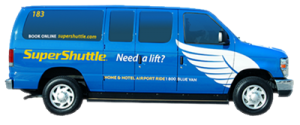 Super Shuttle
SuperShuttle is the nation's leading shared-ride, airport shuttle service, providing door-to-door ground transportation to almost anywhere.
As their website states: "Today, we are the leading airport shuttle service in the U.S., serving over eight million passengers a year. Need a lift? Our friendly drivers and blue vans will rescue you from the hassle of getting to and from over 40 airports.
Our service is more convenient than lugging bags through public transit or driving and parking at the airport, with prices that are generally more economical than a limo or taxi. You save money by exchanging some of your time and a shared ride with others. To minimize the number of stops, our savvy dispatch system groups passengers by geographic area, so trips are as efficient as possible."
If you need individual or group transportation to/from your arriving airport - to/from your hotel or event, use Discount Code 4JA7A.
Need to know more about Super Shuttle? CLICK HERE for answers to common questions.
---
Rental Vehicles
WorldStrides has negotiated discounts with the following rental companies:

800-777-5500
PROMO CODE:
CD04130D96
Book Now*

800-736-8222: opt 1, opt 1
PROMO CODE:
XZL3004
Book Now*

800-736-8222: opt 1, opt 1
PROMO CODE:
XZL3004
Book Now*
*Pricing subject to change. WorldStrides does not guarantee or accept responsibility for: vehicle rate, insurance, availability, vehicle type, condition, rental company policies, weather, roadside assistance, or any unforeseen circumstances. Not all companies or locations offer vans, call for availability. Please see the terms and conditions of the chosen company before you rent.
---
Group Air Travel
WorldStrides can assist you with your group air travel needs. If you have a travel group of 10 or more and need assistance with your airline reservations please click the button below to fill out the Group Air Travel Request Form. All members of the group must be traveling together from the same departure and same arrival destination on a one way or round-trip itinerary.
Once we receive this request form, we will contact you with the best available rate. Please allow up to 2 business days for a response.
Please Note: This is a request form only and not a confirmed reservation until you have paid in full. If you have any questions about this form or about your request, please call us at (916) 939-6805.