Kick-start your fundraising! Keep 80% of sales!
Two easy ways to 
EARN MONEY
for your trip.
✓ NO SET UP FEES
✓ $20 SELL PRICE
✓ KEEP 80% OF SALES
Option 1: WorldStrides Discount Cards
We have teamed up with TriQuest, a nationwide leader in group fundraising, to provide you a proven fundraising tool with one of the highest returns! You will be selling access to an extensive network of discounts to local and national businesses. These discounts can be accessed online or through a free app download!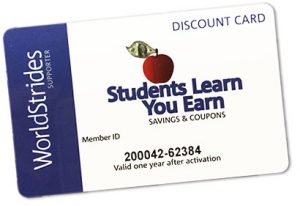 You'll be given a batch of WorldStrides Branded Access Cards which you'll sell for $20 each. Each card includes an access code to TriQuest's extensive discount network – available online or via the free mobile app.
And here's the best part – each card costs you only $4. Most groups sell cards for $20 each. That means you keep 80% of sales!
Discounts on Local & National Brands
All donors will gain access to thousands of discounts across local and national brands. You will be amazed at how easy it is to start raising serious funds for your program.
Option 2: "We Fund Them" Donation Engine
Travelers will be set up with a customizable donation web page. Donors can give any amount they'd like ($20 minimum), and you can easily track funds raised. Share your donation link on your school or event website, social media page, or through email. Every donor gains automatic access to the TriQuest discount network site and free mobile app.