Countdown To The 2021 FIRST National Advocacy Conference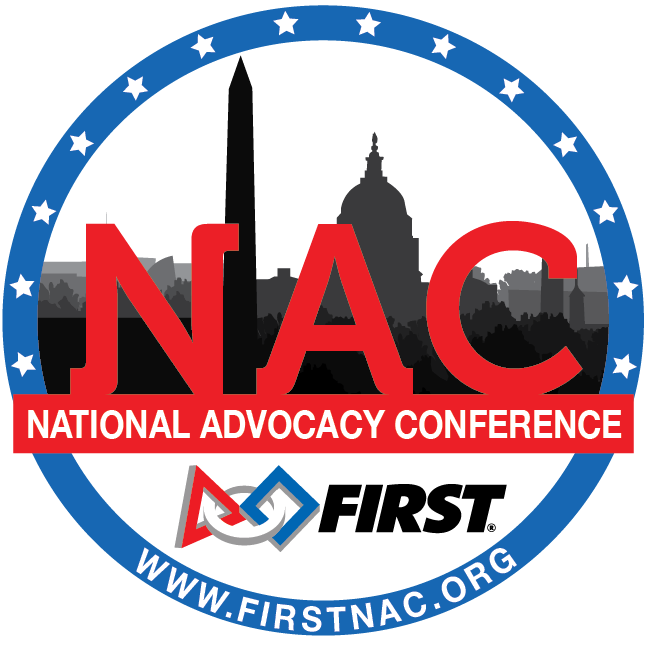 Event Dates: 6/20/21 – 6/22/21 | Location: In Person - Washington, DC (Subject to Change)
Following all federal and local capacity and social distancing guidelines, we will bring    you a safe, smaller, in-person NAC 2021! Both individuals and small groups may            register. Please keep in mind that space will be limited!

 
 Click here to view or download the FIRST NAC Brochure


About the Conference:
We'll walk you through the basics of advocacy while focusing on how to build and leverage relationships with elected officials to advance FIRST and your team/school's goals. We will provide a (socially distant) hands on and practical introduction on what you need to be an effective advocate at the local, state, and federal levels. We've coached over 1,500 kids to talk to their Members of Congress and advocate to expand FIRST to under-served and underrepresented populations while promoting STEM and education.
To change culture to value STEM, we must get our policy makers in our nation's capitol on board, first by knowing about, and then by supporting FIRST and STEM education. If we aren't there telling them about our experiences, who is? This conference will prepare students and mentors for meetings with their Senators and Representatives on Capitol Hill. We will train you on the Do's & Don'ts of these meetings and give you time to practice and organize your talking points so you are ready. We will be available to help you navigate Capitol Hill and for anything else you may need.
We recognize just how important it is to give kids this experience and to remind Congress that they represent us. So important, that we are proceeding, with health and safety as our top priorities, to bring NAC back to Washington, DC.
This conference will be valuable for those who have attended NAC in the past, as well as new advocates just starting to think about affecting local, state, and federal policy. If this is your first time meeting with your Senators or Representatives, we will focus on relationship building. If you've already formed a meaningful relationship, you will be focusing on advocating for FIRST and STEM initiatives. You will also have the chance to ask your school if there are any local issues they would like you to bring forward. The material is geared for high school students, particularly FTC and FRC participants. 
Students will gain a tremendous amount of self-confidence as they learn, prepare, and lead meetings with Senators and Representatives. Students and mentors alike will be enlightened by how their government works, leading to a stronger interest in advocacy in the future.
Any updates on NAC 2021 will be posted on our Facebook and Twitter

Safety is our number 1 priority at NAC 2021 therefore, social distancing & safety Protocols will be strictly adhered to.
We will be complying with all Washington D.C. safety measures

Space is limited because of social distancing protocols

Attend as an individual or as a small group

Early registration prices of $275 or SASA members (Join at www.mysasa.org) and $295 for nonmembers ends May 15th, 2021 by 5pm ET (Prices increase to $325 after May 15th).

Free No Penalty Cancelation with FULL Refund until May 6th, 2021 5pm ET
"I attended the National Advocacy Conference because I wanted a guided introduction to how the government funding works and how I can make a meaningful difference. I really wanted to learn how to use my voice to advocate for STEM education and programs like FIRST. I enjoyed getting the chance to meet with my Representatives in Congress and the firsthand experience I gained from this opportunity. Because of NAC, I have a better understanding of our government and how to advocate for the programs I believe in."
Saige Bock - FRC 1511 (Rolling Thunder)
"The 2019 FIRST National Advocacy Conference was an incredible experience. Personally, I was given opportunities that wouldn't be available to me anywhere else.  I was able to present in front of over 280 people and even take part in a meeting with Secretary of Education Betsy Davos.  NAC not only brings out the best in every student but also pushes students to preform in real-world situations with our nation's legislature. Fro example, one of our team members were nervous about presenting to members of the Congress, however by the end of the conference, he had gained the confidence and presentation skills needed to help him in the future."
                                                                                                                                                                                                                        Tenzing Wiandt (FRC 1816 – The Green Machine
"The National Advocacy Conference has been a life changing event that has truly helped to shape me as a presenter and a public speaker. Although I am a member of the Pi-oneer's presentation team, I get severe anxiety before speaking publicly, whether that be in a class at school or a formal presentation. NAC was a stepping stone in helping me become more comfortable as a presenter and as a speaker in general. I am now more confident when presenting and I have found ways to work past my presentation anxiety thanks to the opportunity that NAC has provided me."
- Hannah Epstein – FRC 1676 – Pascack Pi-oneers
---
                                        Coordinating Committee
The National Advocacy Conference Coordinating (NAC) Committee is a diverse group of teams that make NAC possible.  Without their tireless effort to help shape the agenda, recruit participants, and promote the event, we would not have an event.  These teams provide critical insight that shape every aspect of our conference by continually improving the experience year after year for all those involved.  Thank you to all these awesome Coordinating Committee members!
FRC 1086 Blue Cheese, Virginia
FRC 1296 Full Metal Jackets, Texas
FRC 1511 Rolling Thunder, New York
FRC 1718 The Fighting Pi, Michigan
FRC 1735 The Green Reapers, Massachusetts
FRC 1807 Redbird Robotics, New Jersey
FRC 1816 The Green Machine, Minnesota
FRC 2655 The Flying Platypi, North Carolina
FRC 2834 Bionic Black Hawks, Michigan
FRC 3284 Camdenton FIRST LASER, Missouri
FRC 5338 RoboLoCo, Virginia
FRC 6800 Viperbots Valor, Texas
FRC 6829 Ignite Robotics, Georgia
FRC 6904 TeraWatts, California
FRC 8002 The Knack, Wisconsin
FRC 4821 cyberUs, Washington D.C.
FTC 18376 Graffiti Robotics, Wisconsin
FIRST Indiana
FIRST Wisconsin
                        Thank you SASA Charter Members
FRC 1086 Blue Cheese
FRC 1511 Rolling Thunder
FRC 1296 Full Metal Jackets
FRC 2655 The Flying Platypi
What is SASA? 
The Student Association for STEM Advocacy runs the FIRST National Advocacy Conference every year.  Our mission is to educate, engage, and mobilize students to promote the expansion of and access to STEM programs.  We have membership options available for those attending NAC to get discounts on conference pricing and for those of you who want to support advocacy and take advantage of our virtual trainings and country-wide advocacy efforts.
To find out more visit www.mysasa.org