Disney PhotoPass™+ has made its way fully across the Atlantic!
The popular, longstanding online photo service offered by Disneyland® Resort in California and Walt Disney World® Resort in Florida is now available at Disneyland® Paris, bringing the latest features of PhotoPass™+ and an all-new, exclusive mobile app.
In brief, PhotoPass™+ allows you to link all your official souvenir photos taken by photographers in the parks onto one card, and then access them online when you return home. You can then purchase high quality downloadable versions, or order prints or an array of souvenir applications from mugs to photobooks.
Race Registration is now closed and all hotels are Sold Out
For guests who would like to add-on park tickets, meal plans, Pasta Dinner or PhotoPass+ options, please call our Guest Services at (888) 877-4445
Disneyland PhotoPass™+ Options:
PhotoPass™+ JustRun!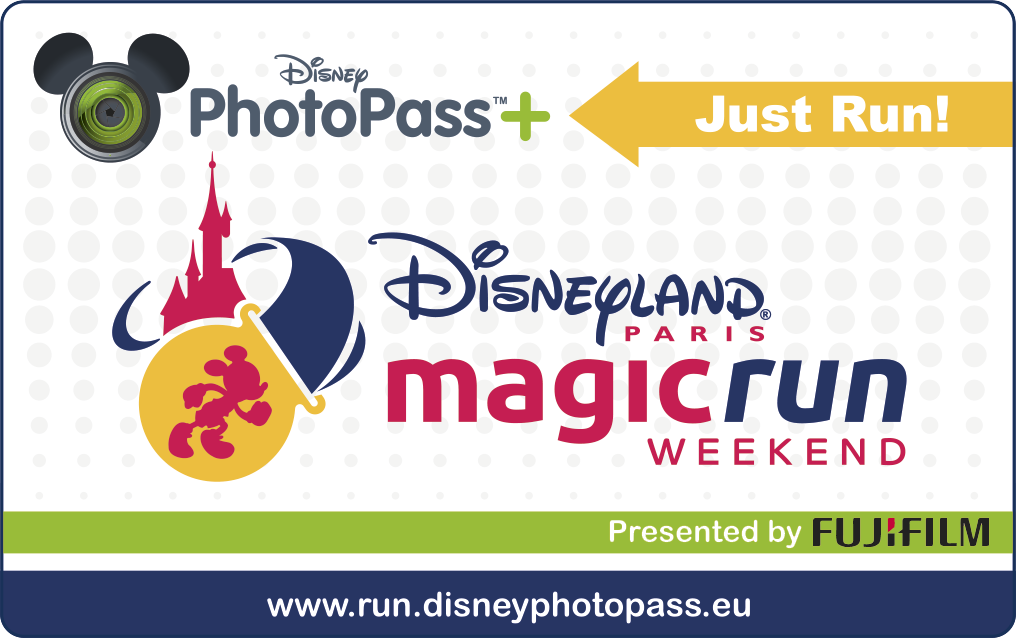 PhotoPass™+ Just Run! Card: $35 (1 Bib Number)
PhotoPass™+ Just Run! Card allows Guests to collect high quality digital photos taken by Disney PhotoPass™+ photographers at exclusive locations during the runDisney races at Disneyland® Paris.
During the races the Disney PhotoPass™+ photographers will capture images at various points along the race route, at the Disney Character Meet & Greet locations, in front of Sleeping Beauty Castle, at the Finish Line, with the race medals and in the family reunion area.
It is anticipated that there will be around 40 photographers per race! Guests can typically expect approximately 10 to 15 photos* from each race, or more if they stop for each opportunity!
The PhotoPass™+ Just Run! Card is valid for the length of the event. Only photos taken by Disney PhotoPass™ photographers during the race events will be on the PhotoPass™+ Just Run! Card.
PhotoPass™+ Just Run! is not valid for photos taken in the Disneyland® Park, the Walt Disney Studios® Park or the Disney® Hotels at any other time, or for photos taken on the Attractions equipped with an image capture system.
How it works: The PhotoPass™+ JustRun! Card is associated with the bib number of a race participant at the Disney® Event Arena (Expo) when the card is activated. The race bib must be presented to the sales person in order to complete the transaction. The PhotoPass™+ JustRun! Card may only be obtained from the runDisney Merchandise Shop at the Health & Wellness Expo, situated inside the Disney Event Arena.
Photos associated to the relevant bib number are linked to the PhotoPass™+ JustRun! unique code. All image files associated to a PhotoPass™+ Just Run! are automatically uploaded to a dedicated PhotoPass™ runDisney web site. Photos are anticipated to be available on the web site one week after the event.
Photos associated with a PhotoPass™+ Just Run! codes are stored and may be downloaded from the web site for a 90-day period following the event.
*Average number observed during the 2018 Disneyland® Paris Half-Marathon event. No guarantee is made concerning a minimum number of photos per participant.