GET Sports offers many competitive rates for air, ground, and local travel to/from the airport, hotels, event venues, theme parks or attractions. We are proud to provide the best for all your sports travel needs. Please select from the following travel options listed below.
VEX Worlds Event Shuttle
VEX Worlds will be providing a shuttle to and from hotels listed below. The shuttles will be available starting on Wednesday, April 19. The shuttles will depart the Kentucky Exposition Center on the hour and half hour.
Group Air Travel
Non-Group Air Travel
Charter Bus
Rental Vehicles
Local Transportation
Group Air Travel (10 or more travelers)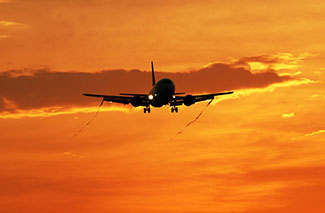 GET Sports can assist you with your group air travel needs. If you have a travel group of 10 or more and need assistance with your airline reservations please call us at 888-877-4445 option 3. All members of the group must be traveling together from the same departure and same arrival destination on a one way or round-trip itinerary.
Once we receive this request form, we will contact you with the best available rate. Please allow up to 3 business days for a response.
Group Airfare Pricing
When thinking about group airfare pricing, there are a lot of items to consider. GET Sports will always look to provide you with the best rate available. However, the "best rate available" may be different than what we, or you, expect. Below are some factors that can affect the price of group airfare.
Getting prices early is important! When there is more time between the air quote request and the event, generally there is more flexibility in rate and terms.
When an airline determines a price point for their flights, there are several components involved:

point of origin,
destination,
time of year,
time of day,
historic popularity of flight,
as well as many other factors

The airline then determines how many seats they can sell. Discounted fares like military, AARP, etc., are added. Remaining seats, seats the airline may not be able to sell, are often sold to discounted sites.

When these sites purchase seats from the airline, they are able to do so with an extremely long timeline, enabling them to buy and sell the seats at a much lower rate.

However, as part of the agreement with the airlines, there is a maximum number of seats they can sell at once, usually about 6. The more passengers you add to the search on these sites, the price also goes up.
As well, when you book through these sites, or even booking direct through the airline, immediate payment in full is required.

As seats sell – and how quickly they sell – the price for the remaining seats goes up. A similar computation is used when they price group tickets.

If the airline has 35 seats remaining, and we request 20 of them, the airline determines the group price point against the remaining seats. In other words, if we take 20 seats off the market at $900, and the airline can sell the remainder for $1100, then the airline may be ok with quoting higher than $900.
If we take 20 seats, and there are 150 seats remaining, the airline is less certain about selling all seats. As such, the group rate will tend to be less.
The benefit to booking group airfare is a locked in rate for the entire group, with a much better timeline to complete payments. Our terms directly reflect those of the airline, which means the deposit requirement and/or final payment date can fluctuate. However, we will always let you know up front what those amounts and dates are.
REAL ID ACT
Passed by Congress in 2005, the REAL ID Act enacted the 9/11 Commission's recommendation that the Federal Government "set standards for the issuance of sources of identification, such as driver's licenses." The Act established minimum security standards for state-issued driver's licenses and identification cards and prohibits Federal agencies from accepting for official purposes licenses and identification cards from states that do not meet these standards. States have made considerable progress in meeting this key recommendation of the 9/11 Commission and every state has a more secure driver's license today than before the passage of the Act.
Please click here for more information.