Welcome to the 2019
VEX Robotics World Championship Travel Website! 
The 2019 VEX Robotics World Championship will bring together over 1,600 of the TOP STUDENT-LED ROBOTICS TEAMS from around the world to compete in Louisville, Kentucky.
VEX Robotics World Championship Team Party
&
VEX IQ Challenge Team Party
All closing-event tickets include:
Exclusive party for VEX Teams only (closed to public)
Unlimited rides throughout park from 6:00pm to closing
Free Meal (either Buffet dinner* or meal voucher)
Unlimited soft drinks throughout the park all night
Party Ticket Deadline Update: Ticket sales have been extended until Monday, April 16th!
VEX Robotics World Championship Team Party
Saturday, April 28, 2018
After the VRC World Championship
6pm - 11:30pm
Ticket Price: $45 per ticket
VEX VIQ Challenge Team Party
Tuesday, May 1, 2018
After the VIQ World Championship
6pm - 11pm
Ticket Price: $45 per ticket
*BUFFET TICKET OPTION
:
The final opportunity to purchase Kentucky Kingdom party tickets WITH THE BUFFET OPTION is April 16, 2018. Any tickets sold after April 16th, including on-site ticket purchases, will only include the meal-voucher option. Party-goers who did not opt for a buffet with their tickets by April 16th will not be able to partake of the buffet meal. Click here to learn more about meal options.
ATTENTION TEAMS!
The REC Foundation is pleased to announce that VEX Worlds will once again conclude with a Team Party at Kentucky Kingdom amusement park.
Kentucky Kingdom is located on Kentucky Exposition Center property and features thrilling new roller coasters, free fall rides and more! Look for these exciting rides:
The Storm Chaser
T3 (a suspended looping coaster with five inversions)
Skycatcher (a 130 foot tall swing ride)
Cyclos (a rotating pendulum that loops 360 degrees in the air)
FlutterFly
Please note that only Kentucky Kingdom will be open during the team party. The attached Hurricane Bay water park will not be open during the party. The park will remain closed to the general public enabling VEX Robotics teams from around the world to enjoy a selection of rides food, music and fun without interruption.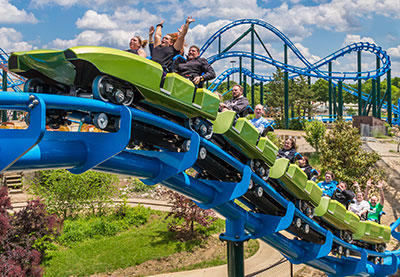 Terms and Conditions:
KENTUCKY KINGDOM PARTY (OPTIONAL): $30 PRE-ORDER DEADLINE IS 3/23/18 AT 5PM PST This is an evening exclusive event conclusion party that will be closed to the general public. The 2 water rides at Kentucky Kingdom and the Waterpark will be closed. The VRC party is Saturday, April 28, 2018 from 6:00pm to Midnight and the VEX IQ party is Tuesday, May 1, 2018 from 6pm to 11pm. There is a Buffet Meal at Picnic Grove or non-buffet meal option. Distribution will be on your party date from the GET Sports booth location inside Kentucky Expo Center. Pricing increases by $15 on 3/24/18 through the party dates. Event will happen in rain or shine and hot or cold weather conditions, although if severe weather is predicted a date change will be announced in advance. Hotels with Tournament shuttles will also have shuttles to Kentucky Kingdom; otherwise transportation is on your own. Purchases are non-refundable and non-changeable after 3/23/18 at 5pm Pacific Time. Distribution will only be on the Saturday and Tuesday event days starting at 7:30am. Lines can get long at times so please plan accordingly. Account holder is expected to pick up wristbands unless other written instructions are provided allowing another designated person to pick up. If it is OK to have parent purchase tickets on the account, please provide the account six digit traveler ID # to them to call in with or order online.