---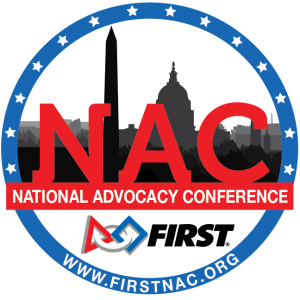 Event Dates: 6/24/18 – 6/26/18 | Location: Washington, DC
About the Conference: To change culture to value STEM, we must get our policy makers in our nation's capitol on board with knowing about and supporting FIRST and STEM in education. If we are not there telling them about our experiences, no one else is! This conference consists of training to prepare students and mentors for meetings with their Senators and Members of Congress in their offices on Capitol Hill.
Students will gain a tremendous amount of self-confidence as they learn, prepare, and lead meetings with Senators and Members of Congress. Students and Mentors alike are typically enlightened with how their government works and usually take a stronger interest in advocacy in the future.
---
2018 Conference Brochure & Registration Form
"I went to the NAC to learn about the inner workings of our government and to advocate for STEM education and FIRST. My favorite part of the experience was learning to communicate professionally and effectively with my Senators and Representatives, knowing that my requests are being taken seriously. The NAC has allowed me to see the fast paced lifestyle of the people who work in our nation's capital, and as a student, it also improved my confidence as a presenter knowing that I can present to my nation's leaders and be seen as an equal."
- Frank Ferrari – FRC 1718 – The Fighting Pi
"The National Advocacy Conference has been a life changing event that has truly helped to shape me as a presenter and a public speaker. Although I am a member of the Pi-oneer's presentation team, I get severe anxiety before speaking publicly, whether that be in a class at school or a formal presentation. NAC was a stepping stone in helping me become more comfortable as a presenter and as a speaker in general. I am now more confident when presenting and I have found ways to work past my presentation anxiety thanks to the opportunity that NAC has provided me."
- Hannah Epstein – FRC 1676 – Pascack Pi-oneers
---
Travel Options
GET Sports offers many competitive rates for hotels, air travel, ground transportation, and local travel to/from the airport, hotels, and event venues. We are proud to provide the best for all your sports travel needs. Please select from the following travel options listed below. Come be part of this amazing event!