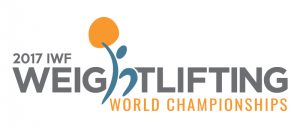 Event Dates: November 28, 2017 – December 5, 2017
Location: Anaheim Convention Center, Anaheim, California, USA
Event Details: GET Sports is proud to partner with the United States Olympic Committee, USA Weightlifting, and Sports Anaheim to host the 2017 IWF World Championships. For 8 exciting days, an estimated 600 competitors from over 100 affiliated National Federations from all five Olympic continents are expected to participate in this prestigious event.
Please Click Here for the Event Guide
---
Spectator Training Options
Spectators do not have to miss out on training! CrossFit Anaheim (https://www.crossfitanaheim.com/) located at 1731 S. Claudia Way Anaheim, CA. has agreed to partner with us as the "Official Spectator Training Site" from November 24th through December 5th. The spectator drop-in fee will be just $50 (an $80 saving if you train all week) for the ENTIRE DURATION of the event and is to be paid directly by the spectator to the gym.
Gym Training Times:
Monday-Friday: 9am to 12pm & 2:30pm to 5:30pm
Tuesday & Thursday nights: 7:30pm to 9:30pm
Saturday: 10am to 12pm
Sunday: 9am to 11am.
NOTE: Spectators will NOT have access to the athlete training hall in the Convention Center.
Volunteer Registration
Want to help staff the event? You earn volunteer service hours, get a T-shirt and one (1) meal per shift! Simply click here - VOLUNTEER REGISTRATION - fill out and submit the form! It is that easy and FUN too!
Travel Options
GET Sports offers many competitive rates for hotels, air travel, ground transportation, and local travel to/from the airport, hotels, and event venues. We are proud to provide the best for all your sports travel needs. Please select from the following travel options listed below. Come be part of this amazing event!